IKON CARBON 20" RIM 451X22MM 36H NO BRAKE SURFACE
IKON CARBON 20" RIM 451X22MM 36H NO BRAKE SURFACE
Carbon Toray T700 Unidirectionnal Rim with UD finish.
Dimensions : 451x22mm (20"x1-1/8" / 1-3/8").
Front profile without brake surface.
Not intended for V brake use.
Sidewalls without brake surface but usable in rear mount if disc braking use.
Tubeless compatible.
Width: 22mm
Height: 23.35mm
Drilling: 36 holes
ERD: 426
Valve : Presta F/V
Weight: 279g
Recommended tire pressure maximum : 110Psi / 7,58 bar
Recommended Spoke Tension : ≤115KGF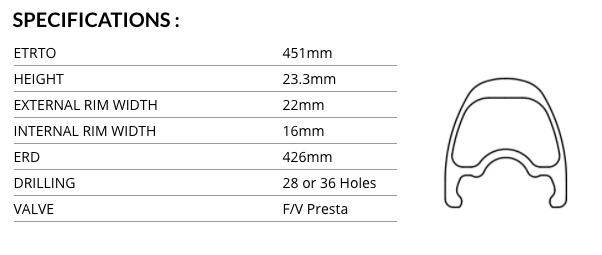 MORE INFORMATION
IKON carbon rims are some of the lightest carbon rims on the market, but strength has not been sacrificed. Made from a T700 unidirectional weave manufactured by Toray, the leader in the field, more resistant than other 3K weaves, all for a featherweight 280g per rim! A comparable alloy rim of the same size / width weighs 350g, which saves you up to 140g for a pair of rims!
Rims without a braking surface can be used as a front rim but also a rear rim when using a disc brake. They are also designed to allow the fitting of a "tubeless" tire (without inner tube), requiring a specific "tubeless" tire, as well as the mounting kit.
IKON rims are offered in a matte finish with glossy UV stickers.

Tubeless Ready System - Our rims feature a Bead Lock System, needed for the rim to be Tubeless Ready. With the installation of additional items needed you can get the rim ready for tubeless set up, along with the usage of a tubeless specific tire. With a tubeless set up, you can lighten up your wheels, saveing rotational weight, as well as have a sealant inside your tubeless ready tire to help automatically repair small punctures.
Additional items needed to convert to a Tubeless system include Special Valve, Sealant Rim Tape, and Liquid sealer.

Disc Braking Compatible - Designed to be used as a front rim or a rear rim when using a disc brake.