ONYX BMX THRU-BOLT 20MM ANODIZED
ONYX BMX THRU-BOLT 20MM ANODIZED
ONYX aluminium 20mm axle.
Thru-bolt.
Includes two 3.25mm wide spacers.
See our sizing guide below.
All ONYX orders are custom, and made to order, and are final and non returnable items, so choose your options carefully and double check your build! ONYX Hub orders will shipped direct to you from ONYX, once complete, if you are ordering in the USA. If you are ordering and shipping to outside of the USA, the hubs will ship to BRG in California first and then sent to you with the rest of your order.

Please note, all orders from ONYX are currently on a slight delay, due to a backlog of the customer builds for all orders and will take up to 3-4 weeks to complete. This is due to each order being built to your exact design and customization. Hubs are currently taking up to 4 weeks in some cases to produce before shipping, no matter the color.
MORE INFORMATION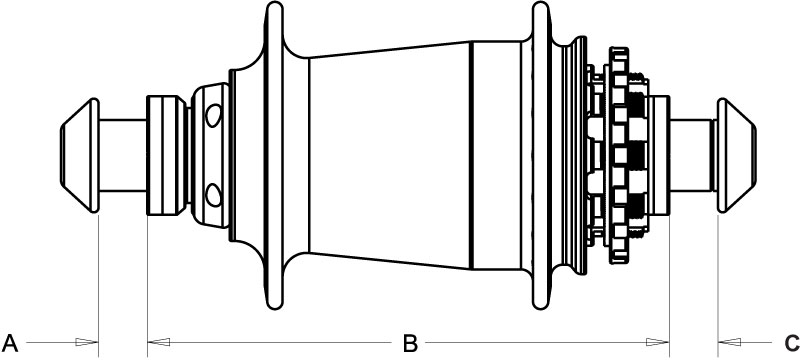 A= Width of Fork/Frame Dropout
B= Width of Hub
C= Width of Fork/Frame Dropout
**Measure all lengths with spacers, chain tensioners, adaptors in place
* Add A + B + C to get overall length of axle required.
Thru axles are compatible with forks within +/- 1 mm of listed length. Spacers included with thru-axles for length reduction. Order next size up if frame/fork does not fall within parameters.
Due to the growing number of frame and fork manufacturers and changing standards, Onyx Racing Products is not responsible for the proper fitting of thru axles to a given frame or fork model.