RENNEN ULTRALITE SPIDER
The Rennen Ultralite Spider is the lightest 5 bolt Crank spider available.
Specs:
Lightest at 32grams 5 bolt 110mm BCD
Extraction feature of the spider just like what is available on our popular RayceLite gears. Don't ruin your expensive cranks, thread in the 6mm cone point extraction screws and safely remove your spider from the cranks.
Compatible with most square taper crank systems that use a (5/8") 0.625inch square mounting boss.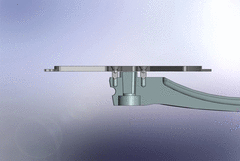 Note: Rennen Products will be shipped to you separately from any other items ordered on BRGstore.com and will ship direct to you from from Rennen. Rennen products are made to order, due to the options of sizes and colors. Each order will be produced once ordered and will be shipped to you when ready, but the production time could be extended up to 2 weeks on some orders, depending on Rennen's production schedule. All Rennen purchases are a final sale due to the method of order from BRGstore.com and are not eligible for return or refund.