ELEVN 22.2 SLT STANDARD 6.25" CRUISER HANDLEBARS
The ELEVN STANDARD 22.2 SLT bend/sweep offers riders the traditional feeling and confort needed to focus and be in control around the track, specifically in rhythm and jumping sections.
Material: 100% 4130 heat treated Cro-mo

Butted:

 13 (variable thickness)

Features:

Rise: 6.25'' / 158.75 mm
Width: 28.5'' / 723.9 mm
Sweep: 10° / Up Sweep: 2°
Cross Bar: 3/4'' / 19.05mm
Weight: 25.85 Oz / 733g

Colors: Black with blue, red, white, and Neon Yellow graphics, with white specification graphics on bar grip area.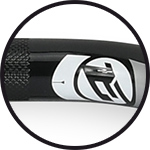 Bar Location Helper: In the Elevn "E" graphic located to the left of the Knurled area, there is a line to help you line your bars with your stem for ease to get back to your desired position after removal.