ELEVN SLT V2 PRO ALLOY HANDLEBAR 7.0"
FOR THE YOUNG STARS OF BMX RACING, WITH THE PERFECT BENDS AND SWEEPS, JUST LIKE WHAT WE OFFER FOR THE WORLDS FASTEST PROS!
BMX Racing Pro Handlebar.
Extra light Butted Bar with Butted cross bar.
Material: Aluminum 6061.
Clamp size : 22.2mm.
Height: 7.0'' (177.8mm).
Width: 27'' (685.8mm).
Back Sweep: 10°.
Up sweep: 3.5°.
Weight: 423g / 14.9oz.
Recommended weight limit: 68 kg / 150 lb.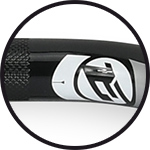 Bar Location Helper: In the Elevn "E" graphic located to the left of the Knurled area, there is a line to help you line your bars with your stem for ease to get back to your desired position after removal.