ELEVN SLT V2 EXPERT + ALLOY HANDLEBAR 6.5"
FOR THE YOUNG STARS OF BMX RACING, WITH THE PERFECT BENDS AND SWEEPS, JUST LIKE WHAT WE OFFER FOR THE WORLDS FASTEST PROS!
BMX Racing Expert + Alloy Handlebar.
Extra light Butted Bar with Butted cross bar.
Material: Aluminum 6061.

Clamp size :

 22.2mm.

Height: 6.5'' (165mm).
Width: 26'' (660mm).
Back sweep: 8°.
Up sweep: 2°.
Weight: 405 g 

/ 4.3 oz.
Recommended rider weight limit: 64 kg / 140 lb.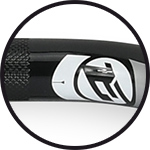 Bar Location Helper: In the Elevn "E" graphic located to the left of the Knurled area, there is a line to help you line your bars with your stem for ease to get back to your desired position after removal.