BOMBSHELL RATCHET 2020 CRANKSET
Bombshell Ratchet 2020 is next generation of our US made , fully CNC'd crank set. Lighter and stiffer cranks are more efficient and making our own cranks and spiders allows us to create perfect fit for every frame. More sizes than ever, decreased Q factor/ weight and interchangeable spiders allowing chainring installation inside or outside.
Ratchets come in more sizes than before. Adding half sizes reflects industry demand for every single detail turning it into advantage on the track. Decreased Q factor by 10 mm still provides sufficient clearence on all bmx frames. Interchangeable spiders allowing to install chairing inside/outside to finetune chainline on every single hub/ frame/ crank combination.We always try to deliver unique Bombshell design, listen to riders needs and comments, trying to make better and better products. Ratchet cranks are fully redesigned and improved to deliver better ride overall. Fatigue testing of AL 7075 - T6 spindle exceed strength of comparable crmo product while responding better to force applied to crank arms. Steel pedal insert ( Pro version ) is newly secured in its position with pin providing still position during pedal exchange. New spider locking system increases overall contact area between spindle and arm adding requiered stiffnes to transfer the power to the rear wheel. The fact we machine cranks in house gave us a chance to increase strength, adding more material where needed while keeping the weight down to a minimum.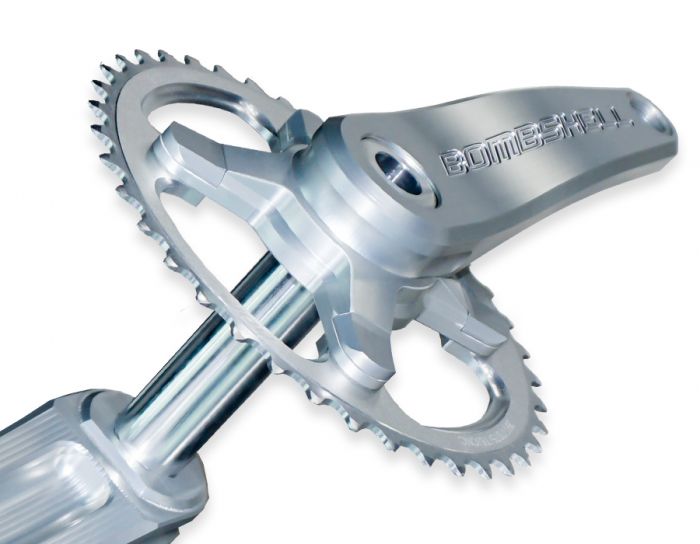 Sizes available
MINI 135 > 155 mm : Rider weight limit 85 lb
EXPERT 160 > 170 mm : Rider weight limit 110 lb
PRO 175 > 180 mm : Rider weight limit 250 lb
Weight: 620g (175mm)
Sold without Bottom Braket.

Note: Bombshell Wheels and Parts are built to order when purchased on the web store. Domestically, these items will be shipped direct to you from Bombshell, so please expect a slight 5-7 Business day delay when ordering these items. For International orders, they will ship together with any other items ordered from BRG store. Most Wheelsets are custom built to order, so they can take an addition up to 7-10 business days before being shipped. All Bombshell items are a final sale, since they are custom ordered, so there are no refunds or returns on these items.